7 Ways Blockchain Helps Businesses Accelerate Digital Transformation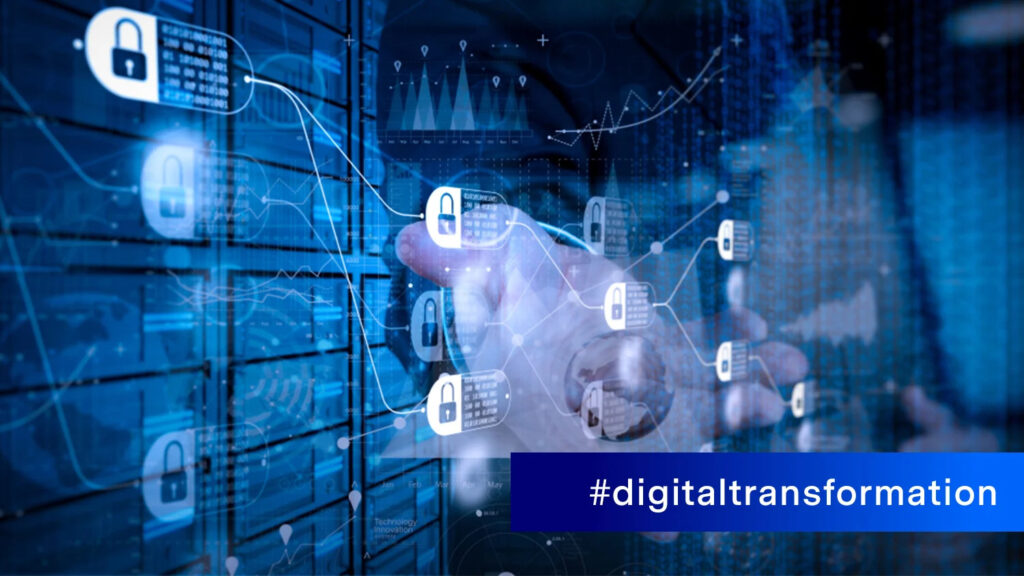 New trends and developments have hit the business world from all sides in recent years. In an age of widespread digital transformation, strategic decisions about how business processes are arranged and integrated into functioning business models are essential if companies are to survive. For this reason, it is crucial that the management team is not slow to recognize the innovation potential that digital technologies have in store for their own companies.
Blockchain is one of the central technologies of this transformation. The basic features of the database technology were already outlined in 1991, but it wasn't until 2009 that blockchain was first used in practice with the digital currency Bitcoin. Since then, the possible uses for Blockchain have developed rapidly. In many areas, however, the technology is still in its infancy. Nevertheless, experts are certain that blockchain will have a radical impact on the business world in the coming years.
1. Blockchain as the Standard for Digital Transactions
Instead of being stored centrally, blockchain is a virtual database that is stored in a network where each user within the network has a local copy of the database. The decentralized structure combined with the use of cryptographic procedures ensure that no information in the database can be secretly manipulated by a user. In addition, each transaction must be sent as a cryptographically-protected block to the entire network and be verified (proof-of-work method).
This way, the blockchain creates an extremely high level of trust in peer-to-peer transactions without the need for a middle man to monitor the transaction. As B2B and B2C businesses increasingly shift to a digital market, blockchain has the potential to become a pivotal technology of digital transformation. It creates trust and security for consumers, customers, trade and business partners in the anonymous world of cross-border digital connectivity.
2. Blockchain as an Accelerator of Business Processes
In digital transformation, speed is one of the crucial factors that sets you apart from the competition. What's more, business processes that store and transfer data in a blockchain offer extremely high levels of security.
On this basis, you have the possibility to implement fully automated transactions in different business areas. This process is not only reliable and secure, it is also extremely fast.
3. Blockchain as a Game Changer in the Supply Chain
Digital transformation gives companies huge scope to reorganize their supply chains. The blockchain can become an essential building block that could prove to be one of the game changers when it comes to setting yourself apart from competitors in the coming years.
The decentralized nature of the blockchain creates maximum transparency in every transaction in the supply chain – from the procurement of raw materials and production to distribution and the sale of the end product. Each transaction can be quickly and easily logged in the blockchain at a marginal cost. This way, there are fewer risks and the end customer is able to trace a product's origin throughout the entire supply chain.
4. Blockchain as the Architecture for Connectivity
Digital transformation is rebuilding the communication infrastructure in companies: The Internet of Things connects all kinds of devices, machine-to-machine communication streamlines industrial production and cloud-based services allow ubiquitous access to data, information and applications. This development provides companies with many opportunities to completely redesign production and work processes.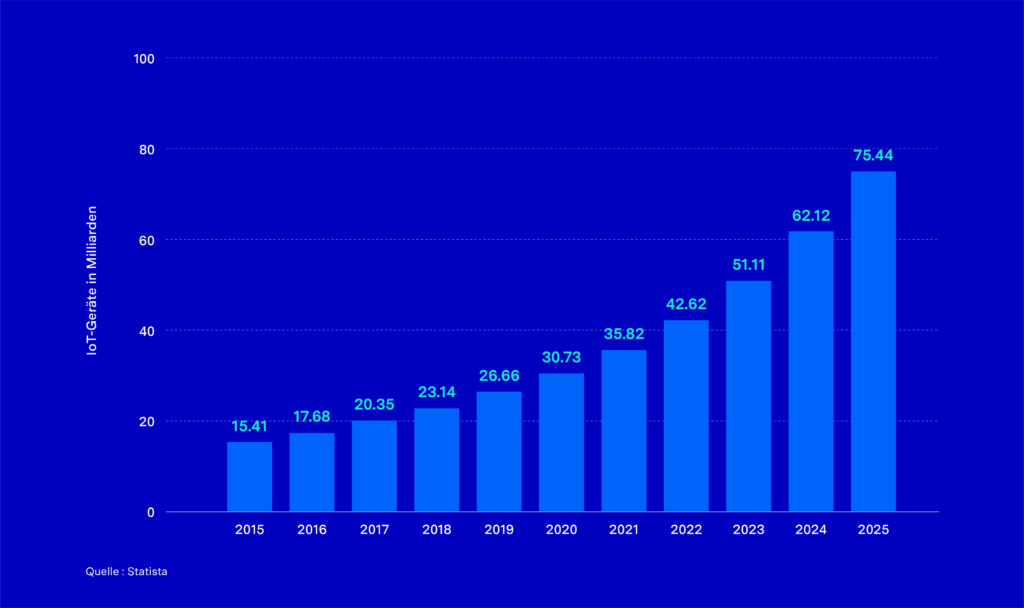 It is expected that more than 75 billion IoT devices will be in use across the globe by 2025. What's more, blockchain could become a key technology for data management (Source: Statista)
The constantly growing levels of connectivity, however, also pose companies with ever-increasing challenges when it comes to handling this data. New blockchain platforms, which operate using a leaner proof of stake validation, are able to securely and transparently manage the vast amount of data generated in the business processes of digital transformation.
5. Blockchain as a Platform for Smart Contracts
Digital smart contracts have long been used in various business processes. In order to conclude them, however, you typically need a central IT system guaranteeing the security of the data and an intermediary ensuring compliance with the rules.
The blockchain will make both instances superfluous in the future. Smart contracts not only enable the secure storage of information in a blockchain, they can also automatically modify information in a trustworthy manner. Smart contracts can be set up based on agreements made in advance and are largely tamper-proof and transparent. This way, they can revolutionize the digitalization of business processes in the future.
6. Blockchain as Fuel for the Finance Function
The success of blockchain in creating and managing cryptocurrencies such as Bitcoin shows that this technology has already led to a revolution in money and finance. In the finance function, it can also control numerous processes through its use as distributed ledger technology i.e. a kind of virtual scattered account book. Financing, payment processes and internal transactions can already be implemented as blockchains.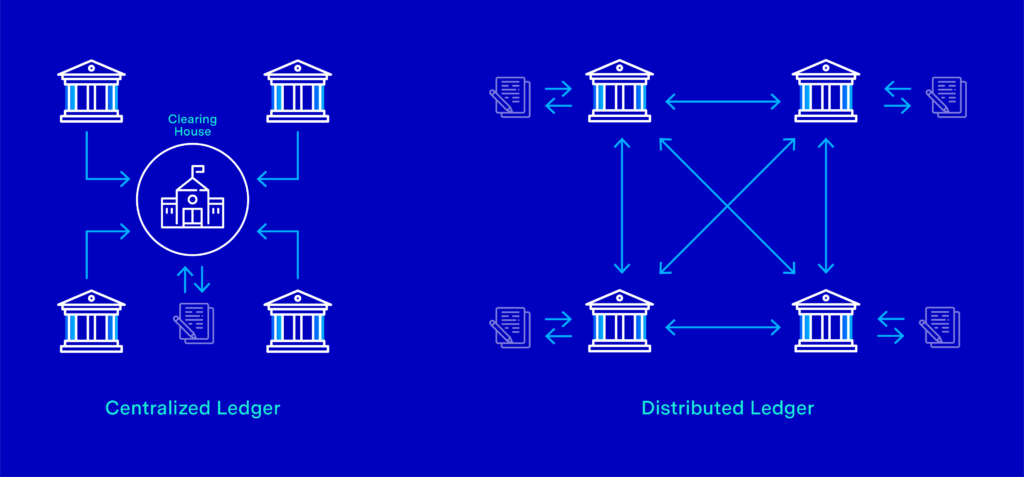 In contrast to "centralized ledger" technologies, "distributed ledger" technology enables the decentralized management of data as a blockchain.
The appeal of the blockchain for financial functions lies not only in the security and precision with which it can handle digital assets in real time. In combination with other digital transformation technologies such as artificial intelligence, the blockchain will be increasingly used in the financial sector over the next few years for solutions related to business intelligence and business analytics.
7. Blockchain as a Success Factor in Competition
For many companies, especially those smaller in size, blockchain sounds like a distant dream that only large companies or particularly high-tech industries get the chance to enjoy. However, this attitude can quickly become dangerous, especially in B2B competition. In the near future, many large companies will require their contractors, such as goods suppliers, to convert their interface processes to blockchain technologies for certain business processes.
For this reason, discussion about blockchain is vital for the survival of all companies that do not want to lose touch with the business world during the course of digital transformation.
Allgeier accompanies you as a partner in digital transformation. Get in touch!
Ionut Pop, the author of this blog post, is Head of Marketing at iQuest. You can follow Ionut on LinkedIn.