10 Strategies to Make Digital Customer Engagement Work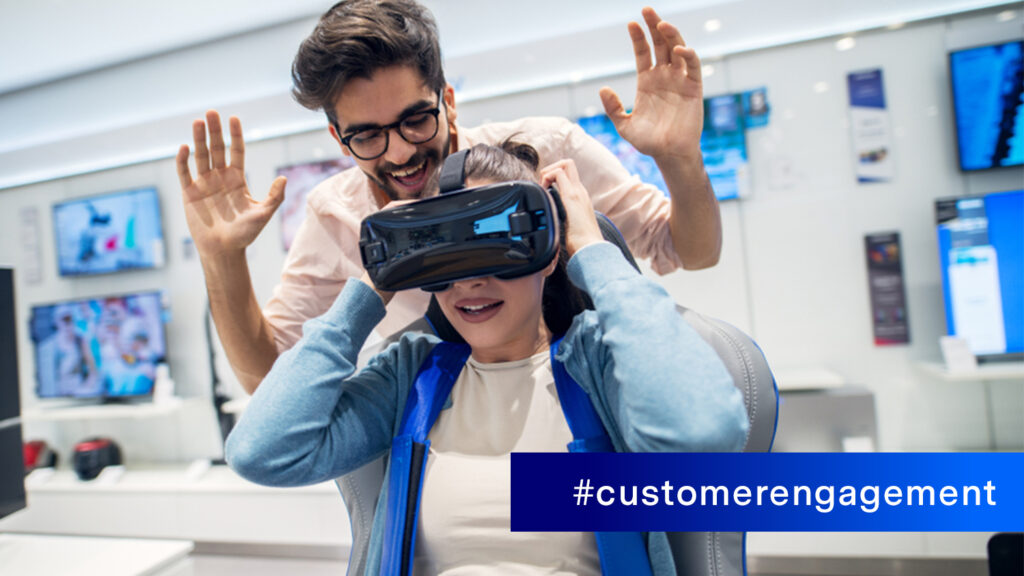 Digital transformation is changing the way companies and customers interact in the 21st century. Social media, mobile devices, the sharing economy and simplified access to information have created a new type of customer, especially among younger generations who cannot be won over by yesterday's marketing strategies. The relationship between customers and brands is currently experiencing a disruption that is demanding new approaches in marketing, sales and customer service.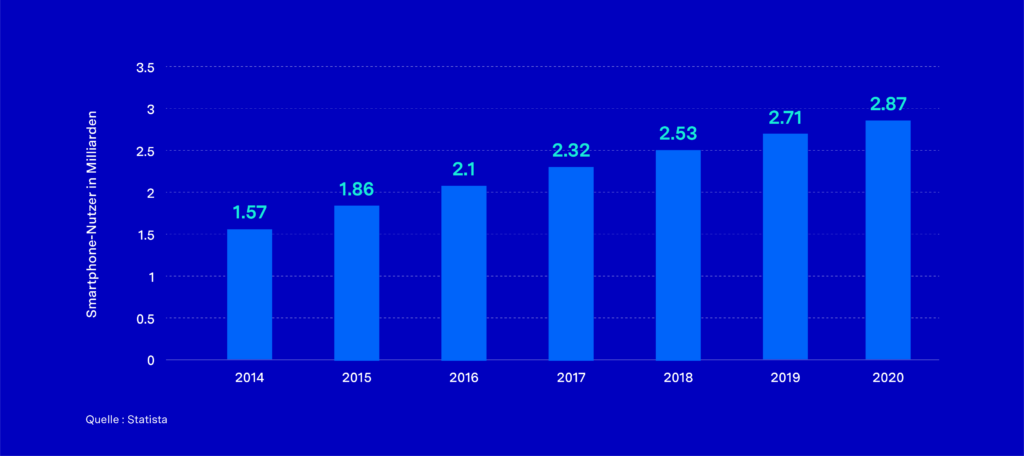 The number of smartphone users is expected to grow to almost 3 billion by 2020 – this will have a major impact on digital customer engagement. (Source: Statista)
1. Digital First
Reallocate your marketing budget and engage in dialogue with your customers via digital channels! Far too many companies still allow precious pots of money to trickle away into offline campaigns generating hard-to-measure benefits while simultaneously striving to implement engagement strategies that are simply behind the times.
By adopting a primarily digital customer approach, you can enter into dialogue with your customers via the channels on which they are accustomed to consuming, communicating and obtaining information. At the same time, by using data in a targeted way, digital customer engagement makes it possible to better measure the effectiveness of marketing campaigns and customer communication, which, in turn, enables you to control them more efficiently.
2. Enshrine Dialogue as a Fundamental Principle
For a long time, marketing enjoyed much success by simply sending advertising messages to target groups on various channels. This one-way street approach to customer communication is becoming increasingly obsolete with the onset of digital transformation. Digital channels no longer function according to the old sender/receiver scheme. In the digital world, communication takes place in both directions.
For companies, this means that digital customer engagement must be established through dialogue. It is essential that brands make the most of that dialogue with customers. It offers the opportunity to learn more from direct customer feedback, develop better solutions and strengthen overall customer loyalty. This changes the objective of marketing: it not only encourages customers to make a purchase, it also fosters brand loyalty and turns highly engaged customers into brand multipliers.
3. Make the Customer King on a Human Level
Digital transformation has changed the role that customers play. Whereas in the past they stood at the end of a chain as individual consumers, they now form dynamic networks in which they interact with and influence each other. This also applies to the impact that brands can have. The international study Brands in Motion discovered that an increasing number of customers expect that brands not only have high-functioning products, but also have an overriding purpose and comply with ethical standards.
Customers make their perception of brands dependent on the feeling that they have something positive to achieve and can control them. That's why digital customer engagement should involve increased customer interaction in order to strengthen a sense of direct responsibility for and loyalty towards the brand.
4. Invest in Digital Technologies
The digital transformation of the business world provides companies with ever better tools to develop data-driven strategies and measures. This also applies to customer engagement. Cloud-based services, big data and business intelligence open up completely new possibilities in customer relationship management (CRM) when it comes to storing and evaluating customer data.
As a result, sophisticated analytics tools are able to link CRM solutions with information from social media and thus gain a 360-degree view of customers. This way, you can learn more about how, when and why your customers get in touch with you as well as discover where there is potential for optimization in the customer experience.
5. B2B Customers Are also Digitally Influenced
B2B companies in particular often underestimate the consequences of digital change for customer engagement. This is not least due to the fact that more and more digital natives are working as influencers and decision-makers in companies. They apply the same standards they have adopted as private consumers in their B2B operations.
This begins with the searchability of products and services on search engines and ranges from simple and effective ways of establishing contact to intuitively designed user interfaces and generating multimedia added value through blogs and videos.
6. Continuity in Customer Communication
Whether online or offline, analogue or digital, mobile or on a desktop: Successful customer engagement not only addresses customers using a multichannel strategy. It also provides them with a homogeneous, user-friendly shopping experience. Digital customer engagement relies on an omni-channel strategy that integrates all digital sales channels together into a cross-channel business model.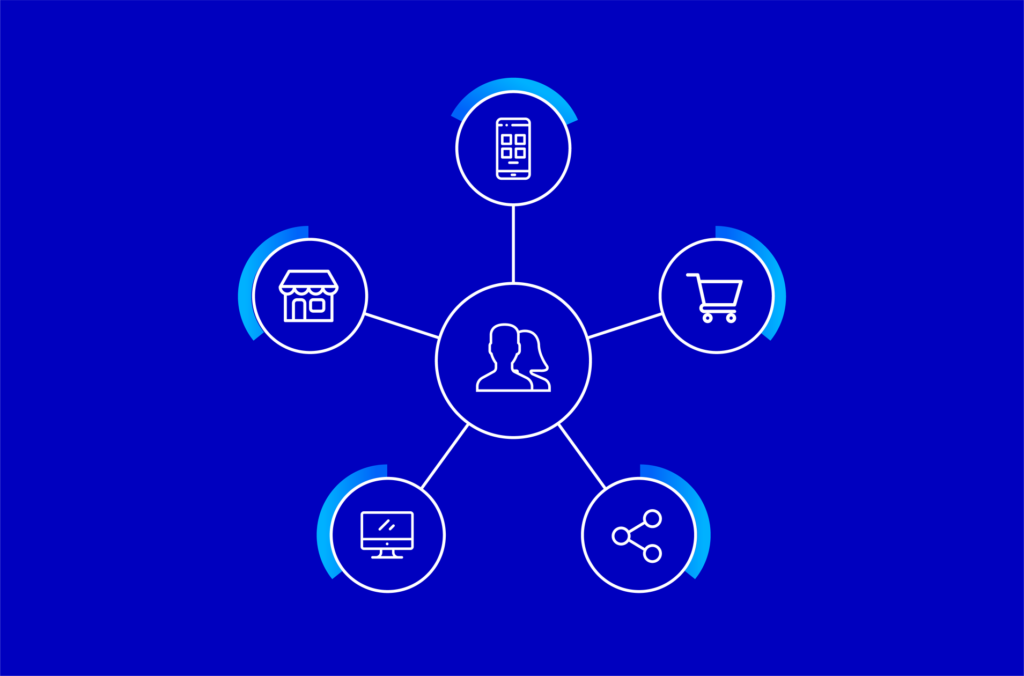 Multi-channel is a thing of the past, 2019 is omni-channel! Modern brands reach customers across all channels, but with a consistent and integrated brand experience.
7. Personalization and Individualization
Younger customers in particular expect companies to treat them as individuals as they respond to their wishes and needs. Two promising ways to achieve this are individualization and personalization.
The individualization of products and services means that, in contrast to classical mass production, tailor-made products are offered to customers according to their individual requirements. This way, the customer will develop a strong emotional connection to both product and brand and become loyal customers, eventually.
The personalization of the offer enables a better, more customer-centric shopping experience in an online shop and increases the conversion rate. After all, transparent handling of data increases customer acceptance.
8. Customer Service Communicates Proactively, Not Reactively
Your customer service representatives no longer wait for customers to contact you with a problem. Instead they are active right where you customers are: in forums and communities, on social media websites and on sales platforms. By communicating relevant content and providing expert know-how to quickly and easily resolve issues, you can build trust in customer engagement while simultaneously boosting the value of your brand. Excellent customer support is key to improved customer satisfaction!
9. Focus On Sustainable Business Value
Although CRM solutions are a good way to quantify financial investments in customer loyalty, the evaluation of customer engagement should not be reduced to an excessively short-term measurement of a customer's value.
Digital customer engagement doesn't just require the reallocation of investments and budgets. It also demands change in business processes and responsibilities, especially at the beginning. For this reason, the impact for the company should not be measured too quickly. Remember, it's a long-term investment!
10. Make the Difference
In a rapidly changing business world, digital customer engagement is increasingly becoming one of the factors that companies can use to compete in the marketplace. It thus goes without saying that it's not enough to digitalize the processes associated with customer engagement by the book.
In order for you to turn digital customer engagement into a competitive advantage, you need to think outside the box and create a sustainable customer engagement strategy across your organization. This calls for creativity, inspiration and agility in the company and business units that work together to find the best solutions for the changing needs of customers.
Allgeier accompanies you as a consulting and technology partner in developing and implementing successful strategies for digital customer engagement. Get in touch!
Maike Dierken, the author of this blog post, is Head of Marketing and PR at Allgeier IT Solutions. You can follow Maike on LinkedIn.