Allgeier Enterprise IT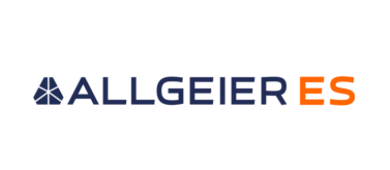 The Allgeier Enterprise IT segment is a full-range provider of IT solutions and services for critical business processes with far-reaching expertise in German-speaking countries. The segment offers its clients a full portfolio of IT services for major software projects and long-term managed services and maintenance agreements. The companies of the Enterprise IT segment design, create and operate end-to-end IT solutions for implementing and supporting clients' critical business processes on the basis of business software products. They do this using their own IP-based software architecture and solutions plus market-leading software products and platforms for the digitization of business processes in cooperation with providers such as Microsoft, SAP, IBM and Oracle. The segment has a large pool of resources with highly qualified IT and engineering experts, which enables it to guarantee a high level of scalability and flexibility in project implementation and support.
Its employees combine indepth technical knowledge, comprehensive process and sector expertise and consulting capability in the fields of business efficiency solutions, IT security, business process management, enterprise content management, cloud and mobile applications and open source software development. In this way, the Enterprise IT segment assists global corporations, SMEs and public sector contractors in their digital transformation and the optimization of their digital business processes along the entire value chain. With their consulting, development, project planning, implementation and support services, the segment's companies create IT solutions in the core areas for business software, such as:
BDP – Business Digitalization Platform: The original roots of the Allgeier Group lie in this area. Business efficiency
solutions for digitalizing the business processes of medium-sized and enterprise clients are implemented using the in-house development syntona logic®, leading software solutions of international manufacturers such as Microsoft and SAP, and industry-specific additions
from the itrade series.
Document Management (DMS)/Enterprise Content Management (ECM): Document-intensive business processes are supported and executed for clients with high efficiency using the company's proprietary digital information management with integrated DMS and ECM functions – metasonic® Doc Suite. The entire value chain of the editing process is supported – from the detection, read-out and editing of content in professional workflow sequences, through to tamper-proof archiving. At the client's request, the solutions are integrated into
their IT infrastructure or offered as complete cloud solutions with hosting at in-house German data centers. The advantages for companies using an ECM solution such as the metasonic® Doc Suite are obvious. They can save a lot of money and time through more efficient processes. This achieves a high degree of automation for office work, which is often still largely analog, and so relieves employee workload.
Security: Data security is becoming ever more critical. The segment combines experienced IT security and IT forensics experts and offers a comprehensive portfolio of IT security consulting, operations and (incident) response & emergency that fully meets the growing demands of the IT security market. The segment also offers its own software solutions, including for the encryption of SharePoint platforms and e-mail traffic. The company's own IT security software solution julia mailoffice® is already in use at a number of ministries, government agencies and large enterprises. EMILY and EMILY SP (SharePoint) ensure secure collaboration.
SAP: The Enterprise IT segment offers its clients Full-Stack SAP Services, extending from project consulting to managed services for the high-end midmarket.
Business Process Management (BPM): At their core, all business software solutions are about the IT-supported execution and optimization of business processes. Process tools need to be particularly flexible in interaction with a variety of software products and ever faster change cycles for software and business processes. With its metasonic® Process Suite, which comprises the latest generation BPM software and a platform for dynamic process applications, Allgeier supports clients in producing in producing bespoke software solutions in significantly shorter cycles. Interactive touchscreens make it particularly easy: Teams put together their business processes and build functional applications quickly and in a playful fashion – without having to do any programming of their own.
Cloud solutions: The Enterprise IT segment builds and operates a variety of cloud solutions for its clients in the areas cited above. Software solutions can be operated in private cloud environments (an enterprise cloud), Allgeier data centers or public cloud environments. The utmost possible data security and resilience are top priorities, as are reliability and load capacity for large data volumes. In addition to many medium-sized companies, the segment's offerings are also used by large multinationals and the public sector.
Open source software development, in particular for public sector contractors: Political issues such as digital sovereignty, European data protection and the "Public Money, Public Code" initiative are making open source solutions increasingly relevant, especially in the
field of public sector contractors. Starting with consulting for all facets of this issue, through open source-compliant software development and the development of industry solutions as open source software to long-term support for such solutions and entire communities, a completely new market is emerging in Germany and Europe. Allgeier Enterprise IT is positioned on the growth market for open source software development as an innovation leader for public administration.
Mobile: User interfaces for a wide variety of mobile devices are becoming the standard for modern business software for access to processed data. The Enterprise IT segment implements individual solutions for a large number of clients in the mobile applications area.
Allgeier Experts also belongs to the Enterprise IT segment. Allgeier Experts is one of the leading providers of flexible personnel services in Germany, especially in the fields of IT and engineering. Allgeier Experts operates as a specialist IT personnel service provider, both in staffing for high-level client projects and in conjunction with in-house Allgeier projects in the services segment. According to the current 2021 Lünendonk® market segment study, "The Market for Recruitment, Placement and Management of IT Freelancers in Germany", Allgeier Experts is one of Germany's top four IT personnel service providers in this area.
The companies in the Enterprise IT segment served more than 1,500 clients in Germany and internationally. These include large corporations (e.g. eight of the 30 DAX companies), public sector contractors and a number of SMEs of various sizes. The clients are broadly distributed across a variety of different industries. The companies in this segment possess special expertise in the areas of the public sector and insurance, chemicals/pharmaceuticals and industry.
The following Allgeier companies are part of the Allgeier Enterprise IT segment: Allgeier Inovar, Allgeier IT Services, Allgeier (Switzerland)
Email:
Web:
Location:
| | |
| --- | --- |
| Germany | Bremen, Westerstede, Berlin, Muenster, Unterfoehring, Kiel, Cologne, Dusseldorf, Essen, Kronberg, Eschborn, Freiburg, Heidelberg, Heilbronn, Hamburg, Pfaffenhofen an der Ilm |
| Austria | Vienna |
| Switzerland | Thalwil/Zurich, Basel, Bern |