Xiopia has tied up with Münchner Tafel for helping the needy in Munich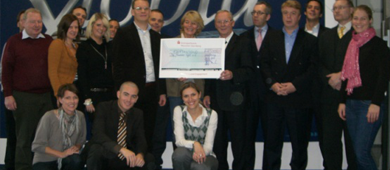 Münchner Tafel has been collecting donated foods since 1994. 450 voluntary employees distribute food every week to their 24 disbursing offices in the Munich town area to people living under poverty.
Although Munich is one of the most prosperous cities in Germany, many people still live here below the poverty limit. Therefore, 18,000 needy and 85 social facilities are provided every week with 100,000 kg of clean foods by Tafel according to the motto "distribute and don't destroy".
Since 2008, Xiopia has been supporting the Münchner Tafel e.V. as a sponsor with a regular donation during Christmas. As a company from Munich, it was important for Xiopia to contribute to the well-being of the people with a regular donation during Christmas in the Bavarian capital. In the year 2011, three Xiopia employees visited the disbursing office of the Tafel in the central market halls for the purpose of handing over the donations.